About Us
Humble Beginnings
In Majestic
Connemara
For well over a century, Millars Connemara has been trading in Clifden, Co. Galway. Steeped in tradition and style, Millars continues to excel as one of the most superior stores of its kind in the country.
Founded in 1890 by Robert Millar, Millars Connemara first opened its shop on Market Street, and relocated to its current landmark building on Main Street in 1950.
Deeply rooted in culture
As an award-winning boutique, exceptional customer service is at the very heart of Millars. Our shop houses exclusive designer collections including ladies fashion, menswear, gifts, homewares, occasional furniture and many hidden gems. Sustainability has always been at the heart of Millars, focusing on natural fabrics and small production labels. In 2022, we were thrilled to be included as one of the 'Best Womenswear Shops in Ireland' by The Gloss Magazine and The Shopkeepers. We are often featured in GalwayNow magazine for our wide selection of both women's and men's clothes, as well as accessories and home interiors. In worldwide publications, we have been lucky enough to be highlighted in Fodor's, and Clifden town has been featured in Condé Nast Traveller.
Over the years, we have been fortunate to welcome visitors from many countries and walks of life. We treasure these memories, and among them we remember fondly our visit from Princess Grace of Monaco. Her signature, along with many others, are on display in our collection of visitor sign-in books.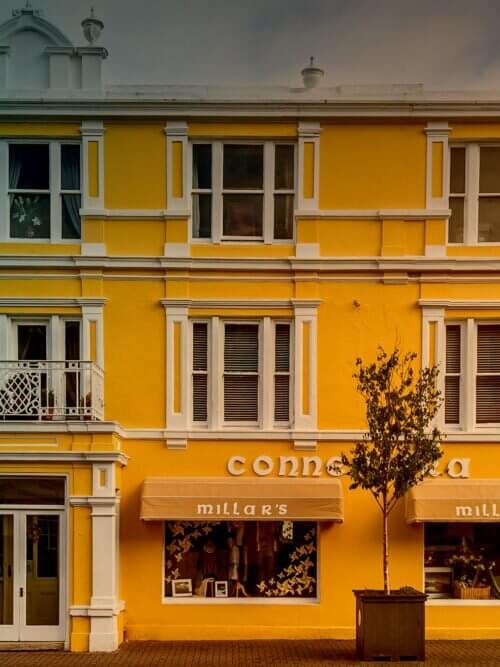 Famous Millars Tweeds
The closing of the railway left the old station buildings became home to Millars Connemara Tweed Mills, once the largest employer in the area. Millars produced their world-famous tweed there until the mill ceased manufacturing in the mid 1990s. The famous Millars tweed hat worn by none less than Sherlock Holmes actor Basil Rathbone is still sought after today.